When you think of Time Attack in general, it conjures up images/memories of the HKS Evo, hammerhead Silvia's, Cyber Evo, Cusco WRX, rotaries of Panspeed & RE-Amemiya and most recently (in what some may think is aero overkill) Project Nemo. Mention Japanese car manufacturer Honda and you'll get mixed responses and the inevitable mention of V-Tech and its
aggressive engagement
. But there is no reason it shouldn't be mentioned amongst the top level Time Attack competitors, just look at the WTAC 2012 results - S2000 5th in Pro Class, CRX - 7th S2000 - 11th and Civic - 12th all in Club Class. Honda, it seems, cannot be ruled out.
One thing Time Attack in SA has been known for is the variety of cars - once you look past all the evo's! Round 1 of the Autosport Time Attack again had a good mix, with Porsche, Clubman, Nissan's, Mazda, the usual amount of evo's and one bright blue Honda Civic owned by Mike Lewis. What attention the Civic
didn't have
during the morning preparation it certainly made up for once on the track. You are forgiven for thinking people on the hill would be listening out for the silky-smooth flat 6 of the porsche, or the manic growl of the rotary. Instead it was the Civic, which literally screams in your face and demands attention on its way to 8,500rpm. A brief stint on the limiter heralding that it was ready for the next gear, and a chance to do it all again. It didn't take Mike too long to get a handle on the Time Attack format and the N/A Civic took up the challenge against the all-paw turbo brigade. The best time of the day was a 1:20.229 but this isn't the whole story. Mike's on-the-limit driving and all out attack on the circuit, coupled with the Civic's sound, grip and pure entertainment factor made it the most talked about car after the event. And if one Honda was enough to cause this much of a stir....what would happen if there were two?
Returning for Round 2 of Autosport Time Attack, Mike had made some serious additions to the Civic by way of some more aero. Joining him was fellow Honda enthusiast, late scratching to Round 1 and Brother, Mark Lewis in his turbocharged Honda Integra. Arriving early the two Honda's looked the part, requiring some assembly of aero trackside before the compeition got underway. A quick look over the Honda's and it isn't too hard to figure out why they're both competitive Time Attack cars. Following a simple principle of Maximum Grip, Minimum Weight, they feature bare interiors, plexiglass windows, fibreglass fenders and wide semi-slicks. They also take different routes to extract power out of the Honda engines, Mike sticking with Honda's priciple N/A strategy and Mark force-feeding the V-Tech engine with a Garrett turbocharger.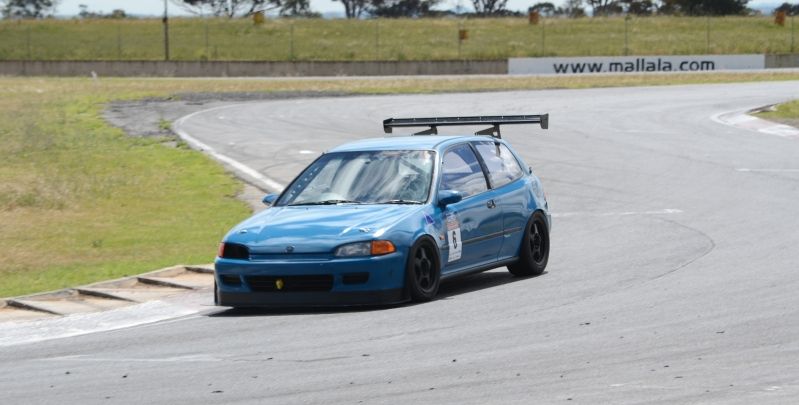 Mike and Mark were having a great battle in Club Class putting down 1:19.692 and a 1:19.750 respectively. Very close times for cars modified in different ways. Unfortunately early in the day mechanical faults ruled out the two Honda's for the rest of the competition. As expected though, to the very end they were still the ones to watch on the track!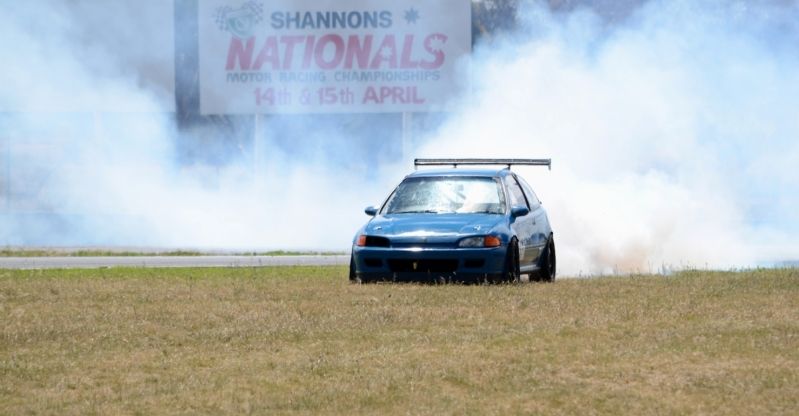 Mike's performance in Round 1 and Round 2 certainly got the crowd onside and cheering for the 'red H'. For this, at the end of the Series Mike was presented with the Crowd Pleaser Award! The GSR / EVO Club look forward to seeing what the Lewis Brothers and their respective Honda's have in store in 2013.
Interview with "Crowd Pleaser" Mike Lewis & Mark Lewis
Hi Mike / Mark, thanks for talking to us after your 1-2 assult on Club Class at the Autosport Time Attack Series. It was sad to see your Honda's suffer from mechanical failures.
Hi, thanks for having us! Yeah it was a bad day for for the Hondas, especially as they are renowned for their reliability.
What was it like competing in the Autosport Time Attack Series?
The series was great fun and very well organized. Everybody involved is very friendly and willing to help out their fellow competitors, Mitsubishi or otherwise! The amount of track time is also very good, whilst not having too many cars on track at the same time so allowing for good clean runs.
How did you get involved in the Autosport Time Attack Series?
We have been spectating at the series for the last couple if years and building our cars with getting involved in Time Attack in mind. After having a bit of a set back when we totaled both of our cars at a practice day we managed to save most important parts, get new shells and join up for this years events.
What interests you in the discipline of Time Attack over other motorsport events like drift or motorkhana?
We have always enjoyed competing in motorsports, in our younger days we raced motocross and generally loved anything with wheels and an engine. After moving here from England in 2008 we bought cars which we were familiar with, V-Tech Hondas, and headed out to mallala for the first time in early 2009. We caught the track bug straight away and since then the vast majority of our spare time and cash has been purely focussed on reducing lap times, and it is very rare we miss an opportunity to head out for some track time. Time Attack is a great way to get a lot of laps whilst meeting the best people.
Did you attend WTAC 2012 as either spectator or entrant?
We've been up to WTAC in 2011 and 2012, only as spectators but maybe one day we'll have the money to compete. It's good to see such a good mix of cars and eastern creek is an awesome venue. We'll definitely be going back every year.
Your Honda's are quite unique - tell us more about current rides & future plans for them.
<Mike> My Civic isn't too extreme, it has a stock dc2r motor with only exhaust and intake modifications. Chassis wise it has buddy club coilovers, Type-R sway bars, new bushes, various braces and a cage. Brakes again are from a DC2R, with Type-R master cylinder and booster. It has a front splitter and spoiler to help the 225/50/15 advan A048 stick a bit better. Inside is just the essentials with a recaro seat and gutted dash. And that's about it at the moment, as for plans I think I will be changing to a k24 accord euro motor as I toasted the B18 at the weekend.
<Mark> My Integra chassis wise is quite simple, with racing logic coilovers, poly bushes, sway bars and other braces. The brakes are the stock Type-R items with Ferodo pads and DBA disks. The engine is an "LS V-Tech" with a fully built bottom end and stock Type-R head. It has a Garrett GT30/76r turbo with custom piping. It also has a custom intercooler and radiator support. I've also made my own front fenders to cover my 255/40/17 Toyo r888's up front and 245's at the back. It also has a front splitter and Voltex rear wing with custom brackets. Inside all non essentials have been removed leaving only the dash skin, Sabelt steering wheel and Kevlar bride bucket seat. I have some big plans for the car over the next year, they involve losing a lot more weight and gaining a lot more grip. Top secret at the moment but all will be revealed in due course!
Anyone you'd like to give a shout-out too? Workshop for car prep? Mates putting in long nights to get the cars ready? Family putting up with your obsession?
We'd like to give a big thanks to Craig helps of Helps Metalworks for his great work on the roll cages and Mark's pipe work and rad support. Also our mate Pav Lianikov for his help and support since day one.
Thanks for your time today and all the best for 2013!
Thanks a lot, can't wait to get back out there and I'm sure 2013 will see some great cars and lots of fast times.