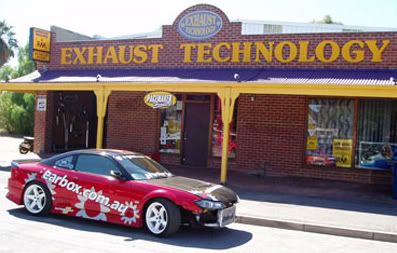 Mitsubishi GSR/EVO Club is excited to announce that Exhaust Technology is backing the club as major sponsors for 2011-12.
Located at 253 Goodwood road, Kings Park, you're looked after by the people that own the business. As a result you get the best service, the best advice and access to the best value products on the market. All of this is with the confidence of the national guarantee.
Exhaust Technology's workshop has fully equipped with the latest exhaust technology, enabling them to produce quality work from custom bending and exhaust system manufacturing to original exhaust replacement.
Exhaust Technology are able to offer you more then just exhaust work too, they also specialize in suspension, brakes engine modification just to name a few.
There are many direct benefits Exhaust Technology is offering to MGEC members, these include:
~ 10% off all products
~ 10% off all accessories
~ 10% off all services
Members must present membership card to receive benefits.
So next time when you think exhausts think Exhaust Technology, "where style meets technology".
Mark Marchesan
Managing Director
EXHAUST TECHNOLOGY
253 Goodwood Road
Kings Park 5034 South Australia
Business Phone:
08 8272 7500
Email:
info@exhausttechnology.com
exhausttech@kern.com.au
Web:
http://www.exhausttechnology.com/
Business Trading Hours:
Mon-Fri 8:00am to 5pm Weekly
Saturdays 9am to 2pm
(Gone racing on Sunday's)